Research Collaboration Project
Industry-Government-Academia Joint Research and Development
Aiming to Convert CO2 into a Resource, Promote Renewable Energy, and Utilize Unused Thermal Energy
In October 2020, the Government of Japan announced its intent to achieve carbon neutrality and reach net-zero greenhouse gas emissions by 2050.
In addition to reducing CO2 emissions, developing negative emission technology—a technology that reduces an amount of CO2 greater than that emitted—is needed to achieve carbon neutrality.
Doshisha University's take on negative emissions features the reduction of CO2 using electrochemical reactions and the conversion to various commercially-used materials, such as carbon materials and hydrocarbon, and converting them into resources.
This original technology developed by Doshisha University has the potential to offer an instant solution to the environmental issues that were difficult to solve up until now, making it a revolutionary technology that supports future generations.
Carbon Energy Recycle Bank
As of 2020, renewable energy accounts for 18 percent of Japan's energy sources. Not only does the problem lie in the percentage of renewable energy, but also in its utilization rate. For example, the utilization rate of wind power generation in 2020 was only 10 percent.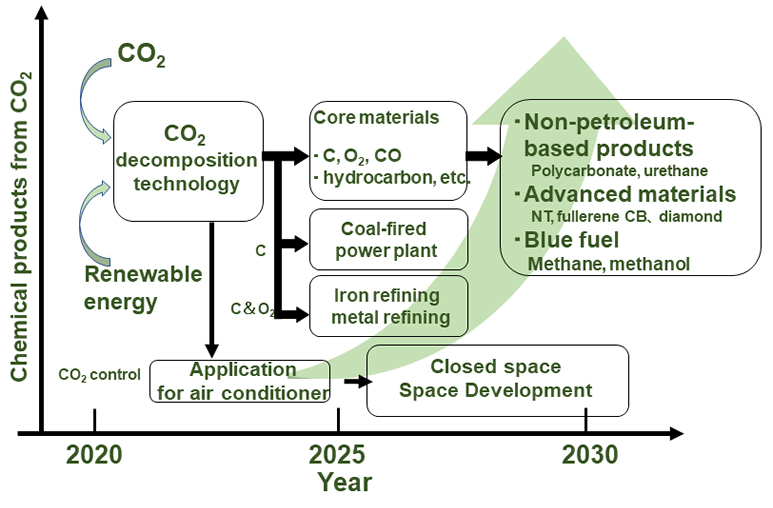 We have developed the revolutionary device, Carbon Energy Recycle Bank (CERB), to store intermittently generated power on demand and produce heat and electricity when needed. By storing energy and leveling supply and demand, we greatly contribute to promoting the generation of renewable energies, such as wind and solar power.
Technologies that convert CO2 into a resource and CERB constitute a revolutionary infrastructure that ensures fair carbon trading and promotes renewable energy.
In order to realize a carbon-neutral society starting with CERB, we aim to conduct joint research between organizations through industry-government-academia collaborations on this platform.
The Research Collaboration Project on this platform aims to match the field of expertise of both the companies and Doshisha University to create a revolutionary technology infrastructure.
We look forward to your proposals and participation.